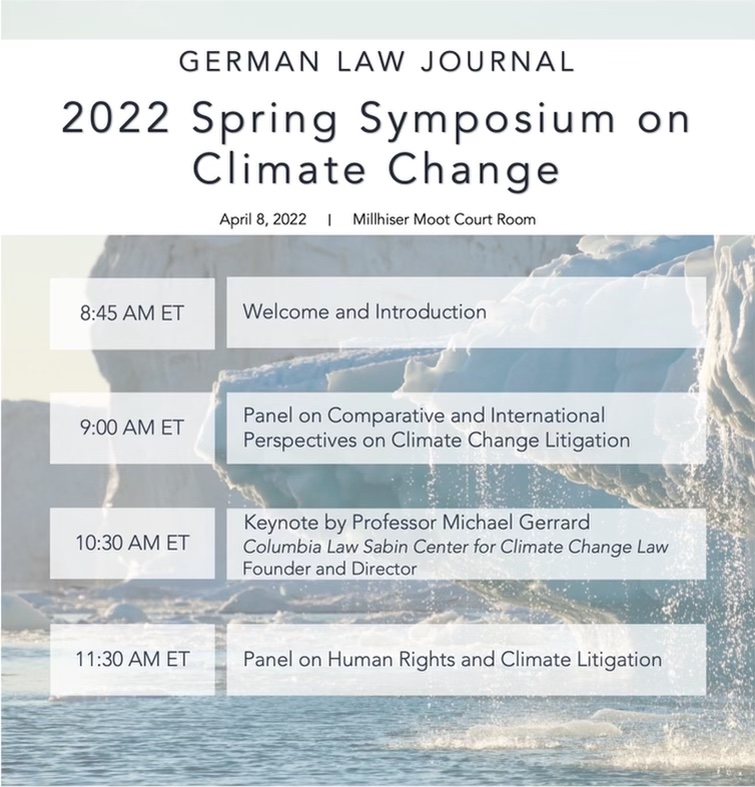 Washington & Lee Law School Spring Symposium
Dear all,
Please join the German Law Journal's student editors at Washington & Lee Law School on Friday, April 8, 2022, for our Spring Symposium on Climate Change. The program begins at 8:45 am EST with introductions by Vanessa Casado Perez and Emanuela Orlando.
Panel discussions include comparative and international perspectives on climate change litigation, as well as on human rights and climate litigation. The keynote features Professor Michael Gerrard of Columbia Law, one of the most preeminent environmental lawyers and the Founder and Director of the Sabin Center for Climate Change Law. Panelists include Rebekkah Markey-Towler, Eeshan Chaturvedi, Alessandra Lehmen, Marta Torre-Schaub, Andreas Buser, Rike Krämer-Hoppe, and Josephine van Zeben.
To attend virtually, please register through the link below:
https://wlu.zoom.us/webinar/register/WN_3pdUIy4pTjuBspia9yKkQA
Sincerely,
Zahra Asadi & Scott Ingram.
Managing Editor & Executive Editor of GLJ.