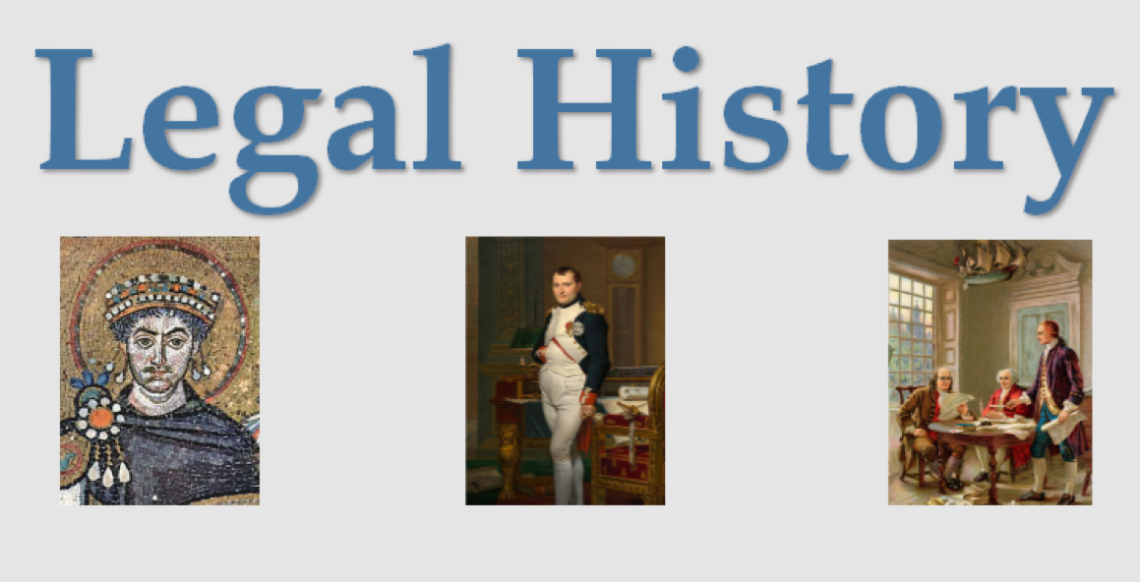 German Law Journal and Legal History
The German Law Journal has a long-running interest in the law's historical position, not the least because our transnational understanding of the law requires us to be conscious of more than mere text and to go beyond traditional dogmatics.  In this sense, the GLJ has made a modest contribution to legal history's new moment.  We are proud that two new contributions, in the August 2016 issue, continue this tradition.  Haferkamp's article survey's the history of the German theory of legal method.  And Jaggi's article looks back to reunification to assess that historic moment as a matter of revolutionary constitutional law-making.  We think these excellent contributions come close to Fisk's and Gordon's summons to "law as history," as opposed to "law and history," because of their "conscious and careful scrutiny of the past," which makes history a central part of their sociolegal sensitivity.
The following is just a sample of the many, many GLJ contributions that have shared this sociolegal sensitivity – and rewarded us and our readers with the many faces of law it helps reveal.  As Pietro Costa explained it in his book review of the Joerges/Ghaleigh "Darker Legacies" project (published in the GLJ in 2003), our engagement with legal history "tries to grasp the vital relationship between the past and the present, and we can, on this ground, say that [we have taken] historiography seriously
Special Issues
Special Dedication to Jacques Derrida (2005)
Europeanization as a Challenge to Legal History
Thorsten Keiser
Law's Past and Europe's Future
Vivian Grosswald Curran
European Integration in the Shadow of Europe's Darker Pasts: The "Darker Legacies of Law in Europe" Revisited (2006)
From Apologia to Utopia: A Celebration of Martti Koskenniemi's Scholarship in International Law (2006)
The Sublime Codes of Manu; Law and Eighteenth Century Orientalism
Piyel Haldar
Law and "Law Books" in the Hindu Tradition
Donald R. Davis, Jr.
Germany's 1968 and the Law (2009) 
The Basic Law (Grundgesetz) at 60 (2010)
Critical Legal Thought: An American-German Debate – Republication [with a new introduction] Twenty-Five Years Later (2011)
The Many Fates of Legal Positivism (2011)
EU Citizenship: Twenty Years On (2014)
Individual Articles
2000
Federal Court of Justice Celebrates 50th Anniversary.
2001
A Certain Constitutional History of the Federal Republic of Germany
Peer Zumbansen
The EUI turns 25: Foundation and Research
Jesse Scott
The "Karlsruhe Republic – Keynote Address at the State Ceremony Celebrating the 50th Anniversary of the Federal Constitutional Court*
Prof. Dr. Dr. h.c. Gerhard Casper
2003
Report on the 34th Conference of German Legal Historians in Würzburg, 8th – 12th September 2002
Thomas Gergen and Michael Ehm
Conference report: History and Law – A German-French approximation of Historians' and Lawyers' Writing on the History of Law – Centre Marc Bloch, Berlin, 24 June 2003
Heike Litzinger
2004
Review Essay – Freedom of Contract in the 19th Century: Mythology and the Silence of the Sources – Sibylle Hofer's Freiheit ohne Grenzen? Privatrechtstheoretische Diskussionen im 19. Jahrhundert
Andreas Abegg and Annemarie Thatcher
2005
"A Community of History": A Problematic Concept and its Usage in Constitutional Law and Community Law
Felix Hanschmann
Judging Nuremberg: The Laws, the Rallies, the Trials
Tobias Lock and Julia Riem
2006
Gustav Radbruch and Hermann Kantorowicz: Two Friends and a Book – Reflections on Gnaeus Flavius' Der Kampf um die Rechtswissenschaft (1906)
Frank Kantorowicz Carter
2007
The Spidery Monster: Inga Markovitz's Brilliant History of the GDR's Judiciary
Michael Stolleis
2011
American Liberalism and Germany's Rejection of the National Socialist Past—The 1973 Roe v. Wade Decision and the 1975 German Abortion I Case in Historical Perspective
Felix Lange
2012
Old Weimar Meets New Political Economy: Democratic Representation in the Party State
Emanuel Towfigh
Conference Report—The Intellectual History of International Law as a Research Field—"Lauterpacht and Beyond: Jewish/German Authorship and the History of International Law"
Felix Lange
Book Reviews
Book Review – Kelsen's Highest Moral IdealAgustin E. Ferraro
Book Review – Kerstin Freudiger's Die juristische Aufarbeitung von NS-Verbrechen (Nazi Crimes Before The Courts)
Phoebe Kornfeld
Review of Ernst-Wolfgang Böckenförde: Geschichte der Rechts- und Staatsphilosophie Antike und MittelalterBetsy Röben
Review of Annelise Riles (ed.), Rethinking the Masters of Comparative Law
Ralf Michaels
Book Review – Lawyers and the Vital Relationship between the Past and the Present – Reviewing Joerges & Ghaleigh (eds.) "Darker Legacies of Law in Europe" (2003)
Pietro Costa
Book Review – Reinhard Zimmermann, The New German Law of Obligations. Historical and Comparative Perspectives (2005)
James Gordley
Book Review – Re-visioning International Legal History: Analyzing Women's Place in the Profession at the Turn of the Century, in Mary Jane Mossman's The First Women Lawyers (2006)
Sara Gottlieb
Review Essay – Ernst Forsthoff and the Intellectual History of German Administrative Law
Florian Meinel
Book Review – Victor Kattan's, From Coexistence to Conquest: International Law and the Origins of the Arab-Israeli Conflict 1891-1949 (2009)
Sujith Xavier